3 challenges of transitioning from management to leadership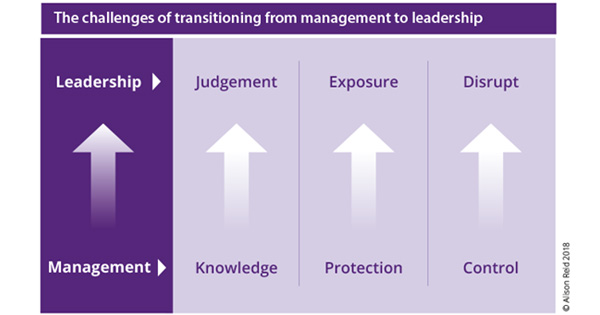 As talented individuals progress through their career, there is often an expectation that they will transition seamlessly from management to leadership.

Yet what has helped these individuals become good managers is not what they need as leaders.
In my work with talented senior managers and directors cross-sector facing new leadership challenges, I have identified 3 key themes :
1) The importance of judgement over knowledge
A core element of their initial progression is about knowledge, building technical expertise in their area. They know the answers to questions and problems and manage others to do the same.
However, as the scope of their responsibility increases, they find themselves needing to have opinions and make decisions in situations they haven't faced before. They need to trust their judgement when they can't fall back on tried and tested solutions.
2) Increased exposure
Visibility increases and the stakes get higher. There is further to fall if they say or do something "wrong".
On a personal level, they may have accumulated financial liabilities such as a mortgage and supporting family members, which means that their fear of loss becomes greater. Research shows that a context of regular "restructuring" – the polite word for headcount reductions – enhances anxiety.
3) The expectation to disrupt
They're often working in large complex organisations where the culture is fast-paced, they feel that they are expected to be responsive to multiple demands 24/7, and are constantly "on" on email and other media.
They're afraid of the consequences of letting go of controlling everything to focus on bigger priorities, especially when there may be no, or limited, resource to delegate to.
When increased challenge and exposure reach a critical point, the strategies they have employed to succeed in the workplace become untenable. They are left feeling overwhelmed and vulnerable.

As one client puts it, whilst she feels most comfortable when she's "tinkering under the bonnet", this isn't an option when you need to lead others through change.
Unfortunately, only a minority of leaders experiencing symptoms of fear feel comfortable voicing their concerns to their manager. This can result in negative thoughts and feelings escalating and the individual perpetuating behaviours which limit their leadership impact.
What would be possible if these leaders felt able to express themselves fully? What could that mean for growth, innovation and engagement in your organisation?